Host Your High Traffic Website Using MilesWeb's Dedicated Server
If you have hosted your website and it has outgrown the traffic, I would certainly suggest you to go for dedicated server hosting. Dedicated server hosting has got multiple benefits over shared and VPS hosting.
For a brand new website, Linux shared hosting is certainly a great choice as it provides low-cost plans, but what when your website traffic increases, making your website sluggish
Every problem comes with a solution, and a solution to an increased traffic website is getting a dedicated server hosting.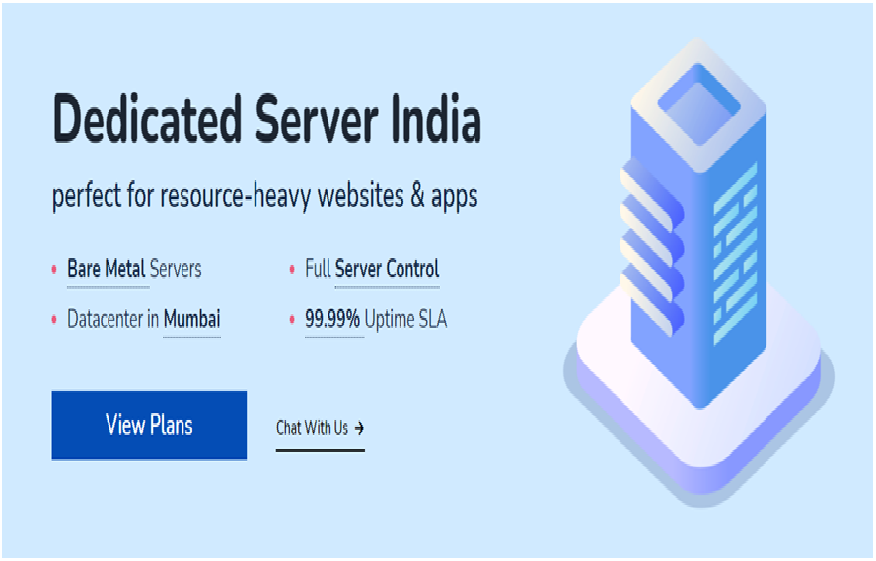 Dedicated server hosting, unlike shared and VPS, is not partitioned into segments. A dedicated server, as a whole is given to the client, and the client has complete control over the server. As the server is not partitioned into segments, dedicated server hosting provides higher reliability and security.
What is Dedicated Server Hosting?
A web hosting type in which the entire server is allocated to the client is dedicated server hosting. The client has complete control over the server, its hardware, and software installation.
Many hosting providers offer Bare Metal servers or traditional servers under their dedicated hosting plans.
Benefits of dedicated server hosting are:
High Website Performance:
Dedicated server hosting provides the highest degree of performance for websites compared to other web hosting types. You can host multiple websites and still have better website performance. As you get the entire server, you get ample resources that are enough for the smooth execution of all the websites.
Dedicated hosting performs better than cloud hosting for many reasons like resource, security, etc.
Increased Website Security
As you are not sharing your website with any other client, you are away from the DDOs attack and other security threats from malicious websites. Whereas in shared hosting, you are more likable to DDOs attacks and security threats.
Also, as in dedicated server hosting, you owe the entire server you can install additional security software according to the needs of your websites.
Dedicated Hardware
Dedicated server hosting enables your websites to have dedicated hardware that is not or cannot be used by any other client.
Advantages of having dedicated hardware:
You have root access, and you can certainly have the hardware best-fit for your websites.
No hardware resource sharing with any other user like shared hosting.
Higher Reliability
Your website gets the highest reliability with dedicated server hosting. Your website is working 24/7/365 days without downtime as you get ample resources.
Even during peak traffic time, your website works well.
24/7/365 Tech Support
You get 24/7 tech support from the hosting service providers if you opt for managed dedicated server hosting. Also, the support staff takes good care that your website is secure from viruses, Trojans, DDOs attacks, etc.
When to use Dedicated Server Hosting?
If you have a high-traffic eCommerce website, you can certainly opt for dedicated server hosting as you'll get to use ample resources.
High-traffic websites benefit the best from dedicated server hosting. For high-traffic websites, dedicated server hosting is the best as the resources are not shared.
When you want to start with a reseller hosting business, you can get dedicated server hosting and sell the server space and resources to your clients.
Now that we have seen what dedicated server hosting is and its benefits, it's time to know why we should get dedicated server hosting from MilesWeb.
You get the best & cheap dedicated hosting from Miles Web as the company provides Bare-Metal servers that offer the best in class performance and security.
Apart from dedicated server hosting, Miles Web provides multiple plans under shared, reseller, VPS, WordPress hosting. You can choose one web hosting plan from the 70+ web hosting plans offered by MilesWeb. Aside from all, Miles Web is rightly known for providing the best customer support, uptime, and server resources.
MilesWeb's Bare Metal Servers
The Bare Metal servers are the physical servers that dedicated to a single tenant. You get unrestricted access to all the resources, hardware, and software.
The Bare Metal servers provide a fully isolated environment for your websites.
Though the Bare Metal servers are a little pricy opting for these servers is worth the money.
MilesWeb's Dedicated Hosting Plans:
With all the dedicated hosting plans you get Intel CPU, Memory, Storage, Bandwidth, Dedicated IP.
The base plan offers:
E5-2609 2.4GHz (4 Cores)Intel CPU
8GB Memory
1TB SAS Storage
1TB Bandwidth
1TB Dedicated IP
The base plan costs you Rs. 6,999/mo.
The high-end plan offers:
2 x E5-2673 v4 3.3GHz (40Cores + HT)
256GB Memory
4×1.2TB SAS Storage
5TB Bandwidth
1TB Dedicated IP
The base plan costs you Rs. 46,999/mo.
You get to choose the operating system(OS) of your own choice. Miles Web offers CentOS that is compatible with Webuzo, cPanel, and Plesk, Debian that is compatible with Plesk, Ubuntu that is compatible with Web uzo and Plesk and Fedora.
Reasons to use Bare Metal Servers:
Unlimited Websites Hosting
SSH Root Acces
High-Performance Guaranteed
Free Setup Without Any Contract
Reliability
Security
Customizable
Hardware Level Control
Powerful Servers
To Conclude:
MilesWeb is the best-suited dedicated hosting provider, providing the best plans and resources at quite good pricing.