Shopping App Development with Laravel
Develop a shopping app with Laravel as the backend for a robust eCommerce solution to gain an upper edge over your competitors.
An online shopping app is an ideal solution in this digital era especially since more users are now shopping online. Hiring an experienced mobile app development company with unique features can help your business stand out and boost your sales.
Introduction  
What is a Shopping App?
Shopping App Market & Industry Forecast
Who is a Shopping App For?
Main Features
Benefits of Shopping App
How to Develop a Shopping App?
Tech Stack
Advantages of Hiring the Professionals
Conclusion
FAQ
Introduction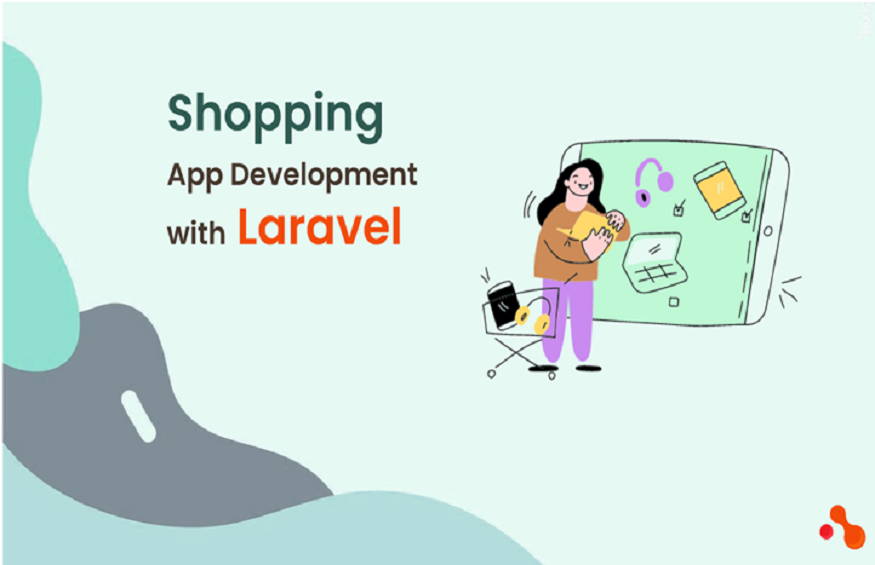 The number of brick-and-mortar businesses selling on the online platform is on the rise. A large number of startups are beginning exclusively as online stores. One of the main reasons is the high number of smartphone users. The sales of smartphones is on the rise as is the number of people spending online. The global pandemic COVID-19 contributed a great deal to the exponential rise in the number of users shopping online.
Starting an online business involves selecting the products you wish to sell online first, researching the market and audience to target, and seeking help from a professional firm to develop a custom shopping app using Laravel. There are many types of online stores business to consumer (B2C), business-to-business (B2B), and consumer-to-consumer (C2C) to name a few. This article provides more information on online shopping app development.
What is a Shopping App?
A shopping app allows the buying or selling of products online. This is also referred to as an eCommerce solution or a mCommerce solution since it is a mobile eCommerce solution. It allows multiple types of users to buy and sell; this includes browsing, searching, and paying for the products using feature-rich apps.
Shopping App Market & Industry Forecast
The online shopping market is steadily growing with more users preferring to shop online. Businesses have the option to build a website, cross-platform mobile shopping app development, or a native shopping app. There are many benefits of opting for a mobile app eCommerce solution. In fact, there are already many large businesses with shopping apps like Amazon, Zara, Shopstyle, and Spring. There are several statistics that suggest shopping apps are the future:
Global eCommerce sales in 2021 was 4.9 Trillion USD.
Mobile eCommerce sales in 2021 was 3.56 Trillion USD.
14 Billion people shopped online in 2021.
eCommerce sales in 2014 was 1336 Billion USD, in 2018 was 2982 Billion USD while in 2019 was 3354 Billion USD, and in 2020 4280 Billion USD.
Online eCommerce sales are expected to rise to 5908 Billion USD in 2023 and 6388 Billion USD by 2024.
The covid-19 pandemic contributed a great deal to the rapid rise in online shopping.
Who is a Shopping App For?
A shopping app is for any type of retail business that is impacted by the increase in people shopping online. Startups can also take advantage of a shopping app since it saves them the time and money to set up a brick-and-mortar store. Businesses can sell many types of products online like food, fashion, beauty & care, consumer electronics, gardening, drugs, cosmetics, medicines, and much more. It is also ideal for those who wish to expand their business without having to invest a great deal of amount.
Main Features
Customer account: Users can register and log in to their accounts to take advantage of the features. Users can manage their accounts and also set their preferences
Product Catalog: The store will have a catalog of products that can be organized according to category and allow users to search for them as well. This includes a detailed description of the product along with images and videos as well.
Browse & Search: Users can browse various categories of products. A robust search feature allows users to find their product and also use filters for more advanced search.
Wishlist: A wishlist for users to save their products to buy at a later date.
Quick checkout: The checkout section after preparing the shopping cart is often tedious for many. Include a quick checkout to streamline this process.
Flexible payment: The app offers multiple payment options to make the process of paying for the products simple.
Notifications: Customers receive regular notifications like product availability, new products, and product recommendations.
Customer Support: AI Chatbots, FAQ sections, and real-time chat ensure that customers can get answers to their questions around the clock.
Reviews & ratings: Rate & review the product after purchase and also refer to the ratings of previous customers before buying the product.
Advanced features: The products listed online are often hard to assess or understand. It is possible to use several other technologies like AR/VR, AI/ML, etc. to improve the level of interaction and simplify product selection. For example, augmented reality can be used to shop for many types of products like furniture, eyewear, etc. VR technology can also be implemented to view a store virtually and use several other features of the virtual world. AI/ML technology can be used to automate and improve the customer experience and increase the level of personalization.
Security & UI/UX: An app like this will also be highly secure to prevent cyberattacks and have an appealing UI/UX interface.
Admin Panel: The administrator can manage their app using their dashboard with all the information about the store. This also includes user & product management.
Reports & analytics: Generate reports and analyze them using special tools to optimize the store for better performance.
Chatbots: 24×7 AI Chatbots to provide vital assistance to customers round the clock.
Order tracking: Track the orders placed from packaging to delivery.
Social sharing: Customers can share their purchases on social media.
Benefits of Shopping App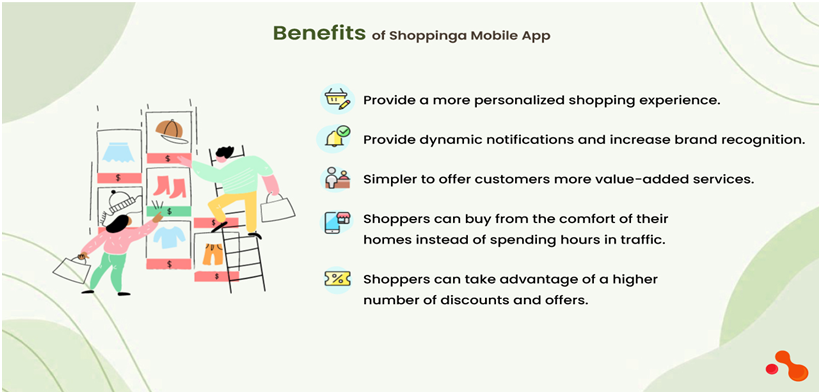 It can help improve conversion rates since it is easier to target the relevant customers and provide a more personalized shopping experience.
A mobile phone is one device that people carry at all times making it the ideal method to provide dynamic notifications and increase brand recognition.
It is simpler to offer customers more value-added services and a higher degree of personification to increase customer loyalty.
Shoppers can buy from the comfort of their homes instead of spending hours in traffic.
Shoppers can take advantage of a higher number of discounts and offers.
How to Develop a Shopping App?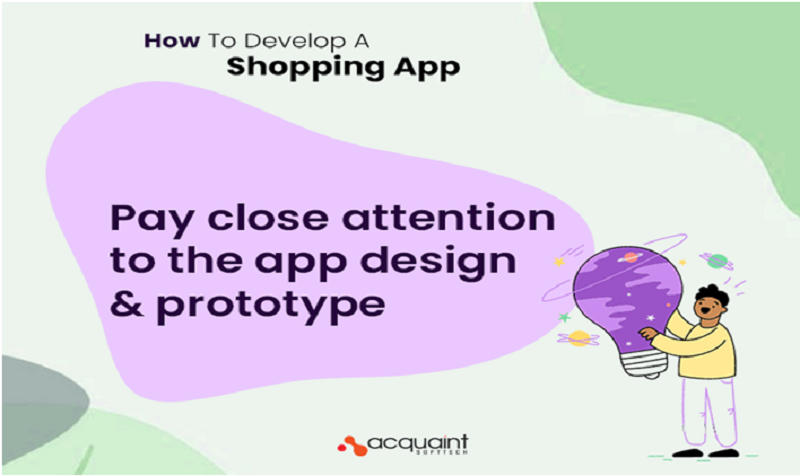 Start by analyzing the market and the demand for the type of app you wish to build and the products you wish to sell. This also includes finding the target audience and developing an appropriate strategy. Establishing the feature set is equally important to verifying demand for the products. With so many shopping apps and a high number of online shoppers, the users will simply begin exploring other shopping options if they do not find suitable features on your app. Here are a few tips on how to develop a shopping app:
Pay close attention to the specifications of the app and prototype.
Considering the development of a shopping app, start with MVP to reduce the risk, keep costs low, launch faster, and gain an opportunity to optimize the app with feedback received.
Hire an experienced mobile shopping app development company with expertise in the eCommerce field like Acquaint Softtech.
Select the best platform & technologies suitable to you based on the type of products, target audience, and features to include.
Ensure the app developed is well-tested by QA experts to ensure it is free from bugs.
Shopping App Development Tech Stack
The tech stack for developing an app like this is extensive; however, Laravel is best suited to develop the backend since it is a feature-rich PHP framework with high security. Acquaint Softtech offers Laravel development services. Some of the other technologies include:
JavaScript, Vue.JS, Node.JS, Angular, React.JS, PHP, Java, Python, Firebase, MySQL, AWS, Google Cloud, etc. The ideal team to develop such an application is: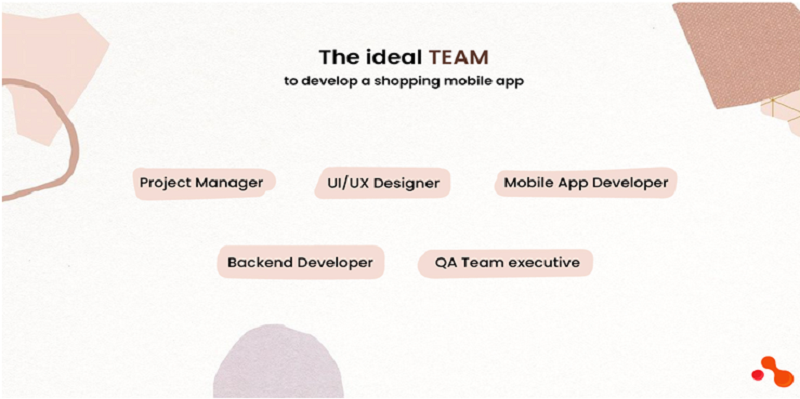 Project Manager
UI/UX Designer
Mobile App Developer
Backend Developer
QA Team executive
Advantages of Hiring the Professionals
Acquaint Softtech has an experienced team of mobile app developers to deliver stunning apps at an affordable cost and in a timely manner. The shopping app development cost depends largely on the type of features to be added and the shopping app development firm you choose. Some of the other factors that dictate the cost are the choice of platform (Android, iOS), the complexity of the design, the level of customization, the duration of the project, and the features to be added.
Hire a developer either for full-time or part-time, fixed price or an hourly basis to develop your projects. The experts like those at Acquaint Softtech are highly skilled developers and keep abreast with the latest technologies. They also have good knowledge of the eCommerce industry making them best suited to handle your shopping app project.
Conclusion
There is extensive growth in the eCommerce industry, this includes a wide range of eCommerce applications like websites, mobile apps, B2B, B2C solutions, etc. The Covid-19 pandemic is to thank for the rapid rise in the number of users buying online in recent years. A shopping app is an ideal choice to increase sales, expand the business, and increase the customer base. Consult the professionals to gain a better perspective of this market and what to expect. Hire the experts at Acquaint Softtech for a custom shopping app tailored to meet your requirements.
FAQ
1. How to make a shopping app?
The first step to developing a successful shopping app is market research and analyzing the competitor apps. The next step would be to decide the features and technology to use to develop the app. Hire a skilled and resourceful online shopping app development firm to create a stunning app that is well-tested, features-rich, and gives you the upper edge.
2. What are the best features to include in a shopping app?
There are many types of features that can be added to this app. Some of the popular features include user login, robust search, rating & reviews, quick checkout, reliable payment gateway, customer support, notification, etc.